Are you a consultant, real estate agent or another service provider? Are you dreaming of your own app? Forget expensive agencies. You can create your own app for your firm with our ON AIR App Builder. It's a blast and there are no programming skills required. How's that? Well, we'll tell you now!
ON AIR app builder overview
No matter if you are a mechanic, hairdresser or insurance broker – with the individual kit principle from ON AIR you can easily create your own service app. With full functionality, you can use the App Creator completely free of charge. Only when publishing your app costs incur.
Get started with the ON AIR app builder
After registering on our website, you can start creating your service app directly.
In our ON AIR Appbuilder you can customize the different colors in your app according to your likings. Among other things, you can determine a background color and set highlights. In addition, you can use a background structure where the intensity can be adjusted as desired.
You want to use a San Serif font in your service app? Or should it rather be a serif font? Open Sans, Lato, Raleway & Co. – choose from over 30 different fonts to choose your favorite font.
You can even customize the main menu in your app so it suits your taste. There are four different layouts waiting for you. If you have selected your layout, you can create different menu items. We have already created legally important points such as data protection, imprint or cookies for you. These only need to be adjusted by you.
On the start page of your app, you can either display a full screen or use individually composed elements with your content.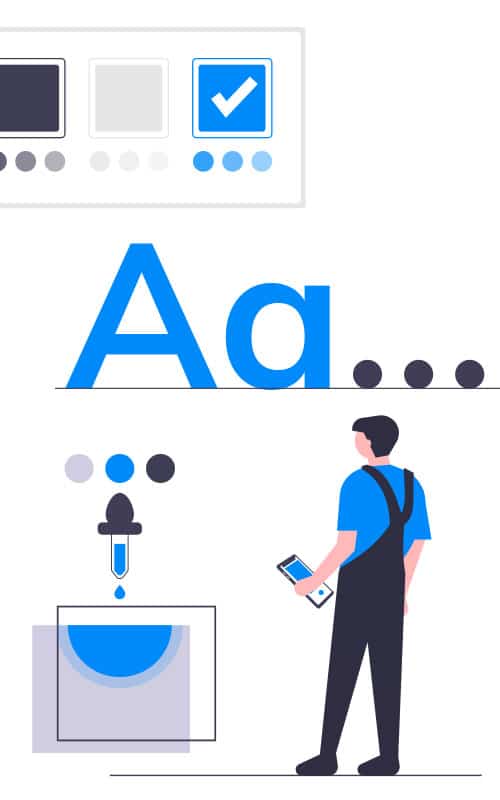 Large range of functions of your service app
After you have mastered the first steps successfully, you can use many more features that the app has to offer. You can, for example, integrate your social networks or directions. How about a gallery that presents your premises? Or with a booking system? All of this and more is possible with the ON AIR Appbuilder!
Publish the app about your firm
You have finished creating your app? You, your family, friends and acquaintances have already put your app through its paces? After you have entered all the required data into the publication area in your ON AIR Cockpit (and at ) Apple created your certificate ), you can finally publish your app!
You have problems publishing your app? Or just do not have time for it? Optionally, you can book the publication service at ON AIR. All you have to do is give us some information. Then, we'll upload your app to the App Store and Play Store, create all the certificates, and bring your app to the Apple review process and Google . Within a few days, your app will be available in the respective stores.
You want to inspire your customers with their own service app? Then try the ON AIR App Builder . There are so many options available to make the app revolutionary. Without any programming knowledge. Start now!