Android app development has become a need of time. There are billions of Android users around the world, who download around 1.5 billion applications per month!
Well, we will give you a moment to sum this up! Well, if you are a start-up and haven't planned to make yourself an App, you are losing many potentials.
Smartphones are dominated by Android and where Apple is in the reach of a selected few in the market. This gives you an option to penetrate every segment of the market and gives you a chance to target a very large audience.
If you have a great App, you could immediately add significant revenue to your business. If you take a look at your competition, you will find that either they already have an App or are trying to get one made for them.
Let's see the top 5 benefits of Android app development, especially for start-ups!
As we already mentioned, billion people across the globe are using android phones. So, imagine the idea of having an app for your business that will help you target all these billion people. Now think about the revenue you will be able to generate if you will get success to convert 1% of it.
2. Do more with less capital
Instead of spending your limited revenue on marketing strategies, it is a good idea to invest the money in the development of an App that is going to serve you for longer. Android app development online is possible with services like android app maker. Not only it requires fewer man efforts but it is also a time and money-saving strategy. Once your app is developed, tested, and published in the App Store and it will make you earn revenues for long without having to do constant marketing for it.
3. Good for companies new to market
Even if you don't know anything about App development, you could be able to understand it without much trouble. As the codes for mobile apps are written in Java, they are simple and you could easily find any reputed Mobile App Development Company to help you out in the same.
You can select the channels as per your priority and preference so that you could be able to use the App store of your choice to market it. With Android Apps under your belt, you could be sure of reaching millions of users in no time.
5. Open and Free Platform
Android platform is open to all and it is free. You don't have to pay any registration fee to get yourself featured on an App store. The underlying architecture of the Android SDK is open-source, and it also allows you to update the app to add new features to keep the users hooked! With Samsung, HTC, MI, One Plus, Motorola, and the likes using the android platform, it gives you a HUGE reach!
Android app development is the future!
If you are looking forward to having a major chunk of the competitive market, then App is the surest way to do it. With android dominating more than 75% of the market share, all you need to do is to develop an App and make your start-up get recognition in the market.  An Android App Development gives a user an extensive way to use your services and connect to your brand where you are open to many options to make your brand have a strong digital presence.
Today, there has been a paradigm shift from offline store to online, from website to mobile app. And it should be too. In this continually rising percentage of smartphone users, android app development is the best decision that an entrepreneur should make for its start-up business. Additionally,  95% of the android apps are available free, and customers love the free stuff. The global mobile app can reach 189 billion dollars by 2020. No wonder the Android world is booming, its penetration rate is growing at a constant pace with no downfalls.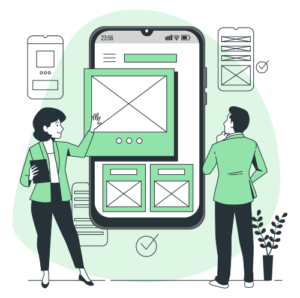 The mobility factor of Android phones is relentlessly shaping the industries in the market. In the past few years, mobile has overtaken desktop convention, and the gap is increasing day by day. It's no more a contact device; it's beyond and now occupied an essential place in our lives.
Benefits of Android App Development for Startups
Jumping on the android app platform is a best and smart decision for a start-up business. Its booming popularity that lures users is another major reason behind developing an android app. So, with ON AIR App Builder showcase the role of android app in your start-up business. Start Now!