During the Covid-19 pandemic, businesses without an online appearance made no money at all. Grocery shops may remain open but an online grocery can fetch far more business. And with diligent and well-planned marketing and growing up loyal customers, you can massively boost your sales.
The call for grocery delivery has risen and customers are more than happy to pay a delivery charge in return for such a beneficial shopping experience. Whether you're wanting to add delivery service to an existing in-store experience or you're purely online, the time to do it is right now.
Online grocery store development
Developing an app for an online grocery allows your customers to observe specifically what you have on offer and choose when and where they'd like it delivered. 
Why is a grocery shopping application good for your grocery business?
Increase business and boost sales
Online grocery apps can strengthen customer trust which is most required to attain growth in your business. Customers prefer reliable and trustworthy labels that render better class and facilities.
Offer suitable payment choices
There are a lot of methods by which you can easily pay for your grocery shopping. To make payments more secured and handy, the government is also encouraging people to use online payment methods.
Customization allows you to make your app unique and stand out from competitors with simpler and more generic mobile solutions.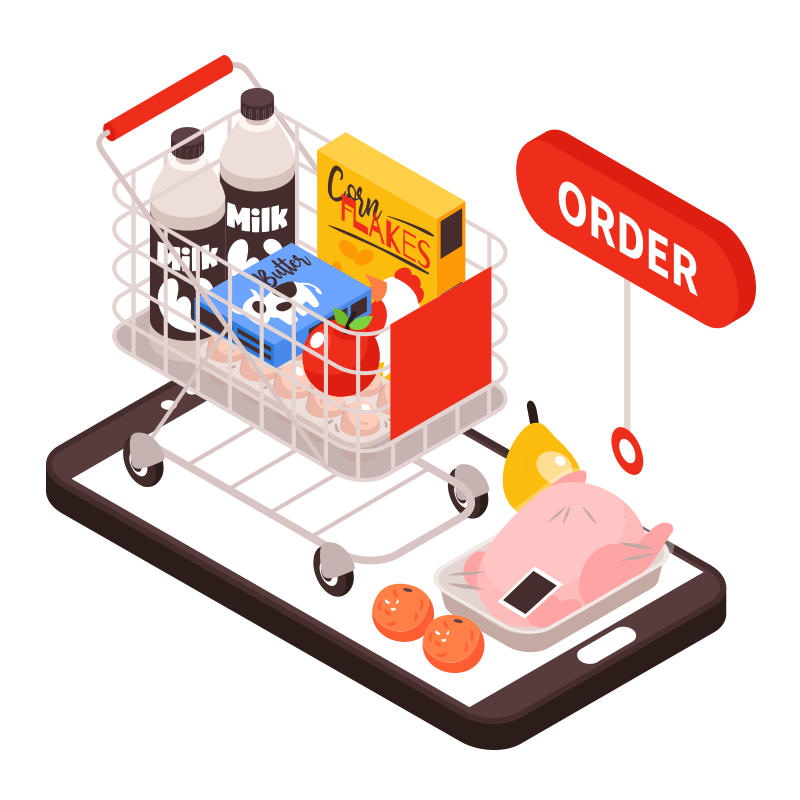 How does an online grocery application work?
It is quite simple to understand the way how a grocery mobile app works. Because the app includes virtually all kinds of grocery items and offers the facility of choosing certain filters in order to make searching easier. But after searching their items, the users can add to their cart, and continue to search for other items; and then when finishing their list, they can do the final checkout. Also, in several of the apps, the users can fill out the preferred time of their order delivery. Here is the detailed flow:
User signed up by providing some required pieces of information
After signing up, log in with an Email address or phone number and Password
Search the item that the user wants to find
Choose the item and Add to Cart
Provide address details where to deliver
Order confirmation and then choose the payment method
The order request is sent to Admin
Request is transferred to the grocery store manager
Store manager either accepting or declining the request
Admin sends notification back to the customer
Store manager generates the order
The Admin get the update on status of the order
Order successfully delivers to the customer
Updates the Admin as well as the customer
Must-have elements of a successful grocery mobile app
Analytics can allow you to learn everything about how your app is performing from both the technical and business perspectives. Analytics will also give you insights on the devices your users most commonly use, your app's performance, and so on.
You should be able to see all payments your customers make through your app and see the most popular payment methods.
In your notification center, you should be able to create and send notifications to all users or particular groups of users. Also you should also be able to automate push notifications: for example, to send a notification after two days of inactivity.
Customer should be able to see the current orders, their statuses, and all order details.
In the admin panel, you should be able to change the content in your app: add new products, edit descriptions, change photos and prices, and so on.
Also, an admin should be able to see information about users, including their logins and passwords.
How to build a no-code online grocery app
Build from Scratch: To build a grocery eCommerce marketplace from scratch you will need a dedicated development team of your own or will have to hire a leading website development company.
Using Ready-made/no-code Grocery eCommerce Platforms: Building a no-code app for your grocery business is easy. It comes with pre-integrated features and APIs and the time required for setups is less.
All You Need to Know About Creating a No-code Online Grocery App
If you have a offline store & it's working good, converting it into an app is the next step for your business growth. So, don't wait anymore! With ON AIR APP Builder you can create app for grocery store without needing to learn code. Start Now!