Mobile apps are going to be about Customer Experience. Walker info suggests that in the coming years UX will beat the brand and product to take the center stage. When a user downloads any app for the first time they go through a certain journey and it involves certain expectations from the app. With mobile driving 56% of digital traffic, reducing their efforts to serve what they look for is an ideal way towards sustainable growth.
Let's see 5 ways with which you can maintain the growth and can meet the user expectations.
1. UI/UX that goes beyond basics
Removing the non-functional or complex features from your mobile app is the first step for it. Every tap on the mobile screen while going through the mobile app should give meaningful results. Try making your app as self-explanatory as possible to let users follow the design and interact freely with easy navigation. The basic user expectation you should be meeting.
For example; while filling out a phone number, amount, or any numeric entry, giving the number keyboard automatically is considered a basic yet powerful user experience. What you did here is that you removed one step for the users to manually switch to a numerical keyboard on their device.
Avoiding activities that require such actions with such a motion is a big win and a way to exceed their expectations, quite subtly.
2. Being proactive, not reactive
In order to exceed user expectations will require you to be proactive and not waste customer's time to reach out to you and explain everything in detail. Not giving them the chance to a complaint is a big win. This creates more transparency and wins their faith while creating loyalty at the same time. Such an experience helps to spread positive word of mouth about your brand.
Do you know? Most of the startup mobile apps follow the fast-track feedback resolution mechanism to meet or exceed user expectations. This really helps in staying ahead of the competition & eventually getting popular among the user.
Being proactive to user feedback really helps in marketing mobile apps via word of mouth.
3. Personalising interaction and customer service
Tap into the customer database and rope in the data crunching team to come up with the best tips for customers along with LVC to better gauge the issues and devise ways to address them. Keeping personnel to interact with users is one way, but assigning a relationship manager makes you walk a mile more. It does exceed user expectations. It will build a rapport, and customers come looking for it every time they open an app.
Following ways, you can improve the customer service to meet or exceed the user expectations.
Enabling contact information that's easy to locate within the mobile app

Giving more ways to customers to reach out to you, anytime; including social media responses

Include all the communication channels using Google Adwords and Google Business Listings to stay in your customer's mind for long

Faster response rates and personalized assistance goes a long way in customer's head than mechanical call-center responses.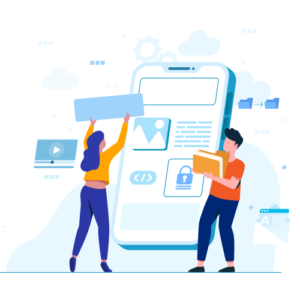 4. Simplifying the buying process
A recent survey indicates that 81% of users spend more time & money if the user experience is up to mark. Also, 9% of consumers are ready to pay more than half if it exceeds their expectations.
You can simplify the buying process by incorporating the following:
Provide free shipping and returns or free delivery on an occasional basis (loyal customers)

Providing money-back assurance on products and services to combat initial user hesitation

Blending in the reviews and testimonials on the app to promote positive word of mouth

Personalizing the marketing communication that goes via a mobile app based on customer's historical data

Purchase made possible in lesser taps on the screen
5. Enabling Integrated digital environment
Exceeding the expectations here would mean carving a brand out of your app. It all starts with delivering all-around customer satisfaction with after-sales services, feedback mechanism, and reaching out to customers in as many ways possible.
Delivering optimized content to keep users updated is the key to make them feel the esteemed users of your mobile app.
Be it social media, forums, email, WhatsApp, or in-app notifications, engaging users after sales are something that drives retention and business growth in a longer run.
5 ways mobile apps can meet and even exceed user expectations
While these are just few ways of driving better user experience and exceeding user expectations to give them the best of the best. You continuously have to find the best ways for user experience. The devil is in the details, so never try to underestimate even the slightest of shifts. Hence use ON AIR App builder to create an app and ensure every feature may satisfy the user.  Start Now!