Building an app can be a complete game-changer for your business. It can also be the core of your business or startup. With an app, you still got the way to move your business forward without having any technical knowledge.
As a way to ensure the progressive future of your company you create the app and handed over to countless users or customers. But even though you have a clear idea of why you created the app, but there are still some significant benefits that haven't crossed your mind yet!
Knowing all the potential ways to boost your business success will have a prominent impact. Below sharing 5 potential ways your business can benefit from building an app. Also, which channels you can make use of.
1. You're always front of mind
Every day people spend hours and hours on their phones and laptop surfing through various apps. People are in constant search to fill their minds with information or entertainment. Hence with an app, your app will always be in front of your customer's phone. The chances are high that they will click and surf through it time & time again.
But the main gist here is to have an app. Building an app for your business means incorporating great email strategies, push notifications, and sleek designs.
The main thing or benefit of having an app is to make people aware of your business. The more your app is in front of their eyes, the more they think about it or use it. So make sure your app is always front and center. Don't let users forget about it.
2. Your customer will trust you
Creating an app that provides exceptional value to customers is crucial. You have to play your cards right if you want to gain the trust of your users.
With an app, you can always provide loyalty programs, discounts, and coupons. With an app, it is easier to provide information. Information such as customer support numbers or store locations should be available at their fingertips. And if you add some sleek and premium features, you can let people pay through your app. It's all about serving your customer through the app in such a way that it will help you in building trust. The easier and more seamless it is for them to interact with your business, the more they will enjoy the process.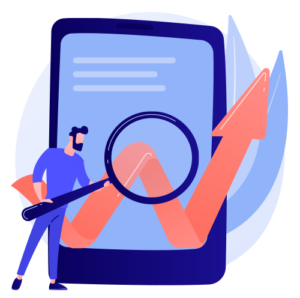 3. You'll grow your social presence
Having a social media presence is very important for any business to grow. But developing and growing that presence is very difficult. With an app, though, your company can connect directly with social media users.
 People can:
Log in via social media

Share your content directly to their feeds or profiles

Integrate your brand into their online presence without ever having to think about it
Simply allowing users to share a thought-provoking article directly to Facebook, for example, can help get your brand in front of prospects you might otherwise never have encountered.
4. You'll be able to pinpoint your users
Offering an app to customers not only gives you a way to reach them easily and directly, it lets you segment your interactions with them based off trends and activity. Apps allow your business to become smarter, which means you'll be able to pinpoint users, their actions, and the best ways you can help them.
5. You'll smoke the competition
Probably your competitor is busy taking out ads in newspapers or leaving business cards on coffee shop checkout counters. But your business, on the other hand, is developing an app that'll help connect your customers and provide them value.
As humans, we look for convenience everywhere we go, and that's what your app should provide.
If you walk on the above potentials paths while building an app or after building an app, higher are the chances of making your business a success.
So, is your app is just an idea, waiting to be brought to life? Or have you already started building an app? Or having some technical difficulties?
Whatever point you are at, know that developing an app for your business or startup is far from impossible. Building an app with no code is as easy as ordering anything from an app. With no-code app builders like ON AIR App Builder, the technical world of building an app is at your fingertips, no matter your background.
With some strategic thinking and a little elbow grease, life on the other side with an app for your business could be everything you've hoped for.
5 Ways Building an App Can Benefit Your Business
Go through your development process with these points in mind. Try to hone in on what'll benefit your customers (and in return, your business) the most. Start the journey of building a functional app with ON AIR App Builder. Start Now!