Mobile apps are an important part of our day to day lives. With the increase in the use of smartphones, apps are getting more and more recognition every day. There is an app for every other function nowadays. Whether it is looking for house help services or ordering dinner, there is an app for it. If you are an owner of a small business, you must use an online app maker to make an app for your business. Read the article further to know more.  
We use apps to stay informed, to connect with our friends and family, and for other kinds of entertainment. Online app maker for business is a good choice if you are looking to make a low budget app for your business. There are plenty of benefits of online app maker for business which will help give your brand higher sales and revenue. Let us get into a deeper understanding of 10 ways apps can improve your business.
Some Key Features are as follows: –
1. Get to know your audience
This is a key aspect for all app makers as one must know who their target audience and clientele is. If one gets a clear understanding of the same they can know exactly what features to elaborate on and how to market the app. Increase in store footfall with a mobile app is a great possibility with mobile app for business.                                                                                                            
You must narrow down the target audience and get to know your audience to see who would use your app.
2. Choosing the Correct Technology
An app can only do exceptionally well for the business if the app technology that has been used by online app maker is up to date and correct for the business. There are three kinds of apps that can be made for the business. They are: –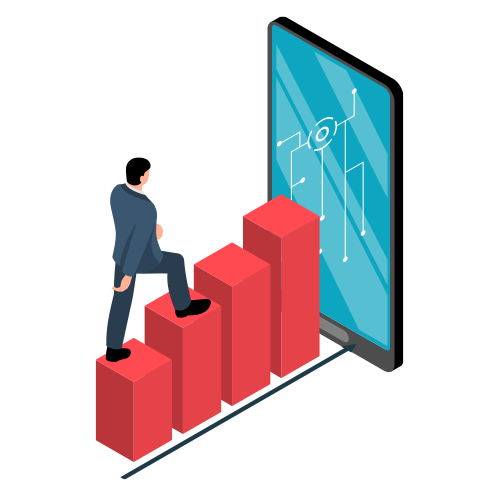 Platform-specific native app
Cross platform native app
Hybrid app
Choose the one that will do best for your business out of these three kinds of apps. This is an important decision to make because choosing the correct technology for your business app can go a long way.
3. Maintaining Good Performance
This is essential for your app as a good app may work for a while but a great app will last forever. There is always room for improvement and this is what keeps the app usable. Many bug issues may also occur and must be addressed by the app developer immediately as otherwise the app may just be deleted and become irrelevant for other users.  A well performing app always adds benefits of online app maker.
Ensuring safety for an app is essential for any mobile app users, as our phones contain all personal details including banking information. Hence it is very essential that the app may be safe and secure at all ties. This is not an easy process as they are always new threats in the market. 
You can improve your business by flaunting the scope of app features on your business app. Online App Maker gives you an opportunity to add various features to your business mobile app. With good app features on your app you can increase the number of app downloads. Making a business app with good app features is one of the most essential things to keep the business up and going. Be up to date with all that is currently trending and put relevant features on your mobile app.
6. Plan a marketing strategy
Planning a marketing strategy is essential to an apps success, it isn't that easy to get someones attention let alone make them remember or like a product you are offering. Marketing the product to the correct clientele with the appropriate distribution channels is important.   
7. Selecting Designing Team
When you are making an app for your business to improve the state of your business, you must focus on selecting the right designing team. A well designed app can attract a lot of customers compared to an app that has a bad app design. Online app makers solve the problem of selecting a good design team because it creates a well-designed app without the need of manual employees.
8. Creating Engaging Content
Creating engaging content for your business app can really help your business up its game. Engaging content always helps your audience connect with your app better. If people on the internet start liking your app's content, they will keep following your app and increase your store footfall too. Increase your in store footfall with a mobile app for your business by creating extremely engaging content for your app users. The more your users like your content, the better it is for the brand.
Offering value to your app users is another essential thing you as a business owner must focus on. Solve a purpose for your business app to exist. Only if you offer value to an online user will they feel the need to download your business app. Make the user's experience worth it and you will have plenty of app downloads in no time. This will instantly up your business sales and revenue.
Analyzing all the data you collect and constantly updating your app has a great importance which goes down to retaining your user's attention. While making an app for your business, online app maker must focus on how to retain users for the app in the longer run. Cracking the right way of user retention is going to earn your business a rock solid loyal customer base.
10 Ways Online App Maker Can Improve Your Business