Mobile apps can really help your small and medium sized businesses grow. If you are someone who owns a small business and are looking for ways to increase sales and revenue from your business, you must make an app for your business. It helps in reaching out to a big pool of customers who will be interested in buying the product or service your business sells. Creating an app for your business has a lot of potential in the coming years. Your business will get exposed to great heights and an app will open many avenues for your small scaled business. In this article, we will talk about the mobile app development life cycle which is very beneficial for small businesses.
Mobile apps can change the way businesses function and give it a great boost in terms of performance. When more people get to know about a brand and a business, the brand gets a great sales exposure. If you are someone who owns a business, this article will be of great help to you. The mobile ap development cycle comes along with a lot of insightful things which you need to know about building an app for your business. There are many reasons why mobile app development does good to small and medium sized businesses. A few of those reasons are: –
Mobile apps make up for about half of all time spent consuming digital media.
Smartphone users spend a great part of their day spending time on mobile apps.
A high number of consumers prefer native mobile apps over a mobile website.
Mobile apps account for 42 percent of all mobile sale.
Revenue from mobile apps is expected to reach a to a great extent in the years to come.
The average consumer has about 30 apps installed on their device and spends about 35 hours a month using them.
The mobile app development life cycle comprises of about 5 stages.
Market research is very important. It is the first stage of the mobile app development life cycle. The first thing a business owner has to do is research about what is going on the existing market. Every business app must have a USP to thrive on. To figure what your brand's USP is, you need to thoroughly study and research the market to bring out a differentiating factor. This factor will help you attract a huge number of customers.
As a brand owner, you also need to understand how your competitors are doing in the app market. This way you will be able to make a good business app.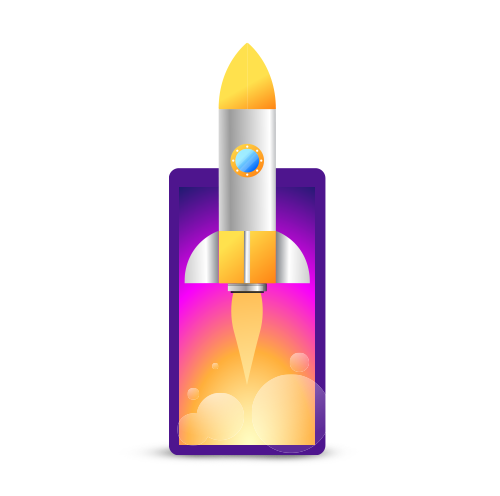 2. Definieren von Zielen und Zielvorgaben
Ask yourself why you are creating your business app. What are the goals and objectives your app existence is trying to achieve? Defining the goals and objectives of your app is an important task you as a brand owner need to achieve in order to make an app for your business. Defining goals and objectives of your business app is an essential step in the mobile app development life cycle.
Unless you give your user a reason to use your app, they will not feel the need to download your app in the first place. Define the goals and objective you are trying to establish with your business app. Try and get extremely convincing with your objective so that users don't think twice before pressing the download button once your app is created.
The app development process in the app development life cycle brings out the essence of your app to the T. In this stage, you execute your brand's story, ideas and deliverables in an actual online app. The design of your app needs to reflect what your brand is all about. Placing the features of your app and what it is meant to do is a part of the app development stage. The developer will have to set up the actual storage solutions, databases, APIs, and servers for the backend of your app.
Once your app is developed, it is almost ready for the final launch.
Remember to always test your app before the final launch. Testing the app is a crucial stage in the mobile app development life cycle. This stage decides whether your business app is ready for the launch or not. Check whether your business app works fine before you put it out there for users to use it. If there are any glitches in your app, you can fix it before the launch just by testing your app. Testing the app helps business owners to understand whether the have done justice to their brand idea or not. This stage also helps giving users a great user experience while using your business app.
The steps you take to prepare for your app launch may have the greatest effect on its ultimate success, and getting your marketing department involved early in the process is one of the most important. Marketing will help you with keyword research, which is essential for SEO and app store optimization (ASO), both of which are key for discoverability.
Your market and keyword research will guide your choices for app titles and descriptions as you prepare to submit your mobile app to the various marketplaces for distribution. You'll also want to get high-quality screenshots of your app and maybe even a promotional video and/or demo at this point.
Lebenszyklus der mobilen App-Entwicklung